PERFORMANCE TESTS: Hidden Gems

Updated January 18, 2010


This test represents the equity selection and performance of Sabrient's published Hidden Gems Rankings.

Test Parameters

Period covered: November 8, 2004 - December 8, 2009

Number of stocks: 100 stocks in the test portfolio.

Stocks sorted by: The Sabrient Composite Score.

Weighting: An equal dollar weight is given to each of the 100 stocks.

Rebalancing: The test portfolio is rebalanced once a month on the date of the next published rankings.

Dividends: Results include dividends for both test portfolio and Russell 2000.


Stats
Sabrient
Hidden Gems*
Benchmark:
Russell 2000*
Annualized Rate of Return
19.5%
1.2%
Annualized Volatility
35.5%
24.6%
Annualized Differential Return
19.2%
Alpha
20.06%
Beta
1.235
Sharpe Ratio vs. Benchmark
1.0
Simple Sharpe Ratio
0.45
-0.07
Drawdown
-23.8%
-21.4%
Correlation with Benchmark
85.5%
Hidden Gems vs. Russell 2000 Index: November 8, 2004 - December 8, 2009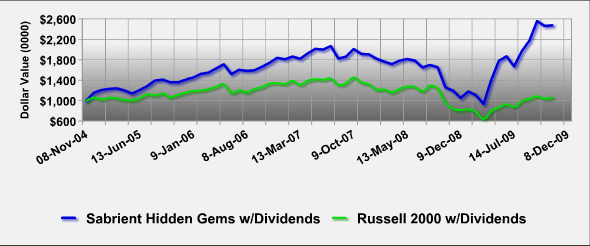 Disclaimer: These reports are published solely for informational purposes and are not to be construed as advice or a recommendation to specific individuals. Individuals should take into account their own unique and specific circumstances in acting on any stock selection made by Sabrient. Sabrient makes no representations that the techniques used in these reports will result in or guarantee profits in trading. Trading involves risk, including possible loss of principal and other losses, and past performance is no indication of future results.